Responsibility to Society and the Environment has become an essential dimension in ATC's growth strategy. This commitment materialized in July 2020 with the signing of the RESPONSIBLE CARE GLOBAL CHARTER.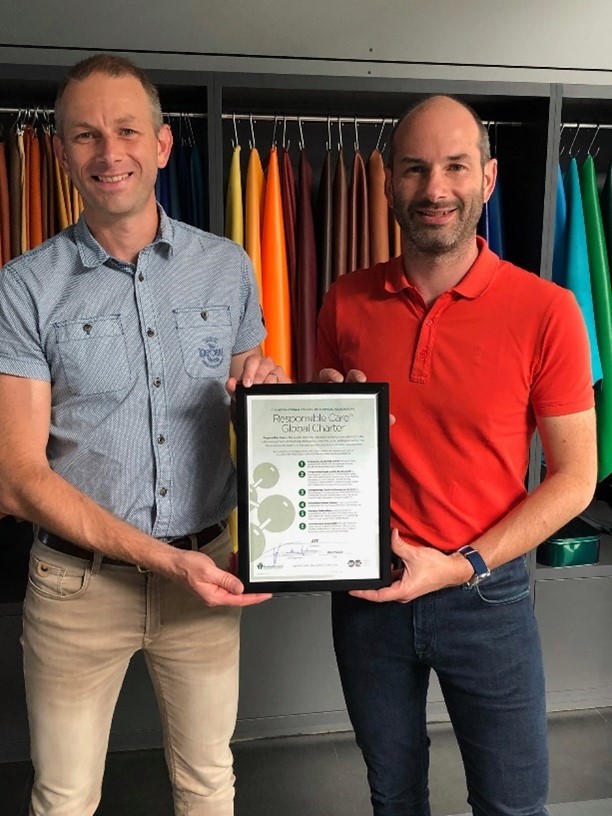 Jean Baptiste Gualino and Pierre Antoine Gualino presenting the recently signed RESPONSIBLE CARE CHARTER in July 2020
Signing of the charter
ATC is an active member of the Leather Working Group (LWG), an international organisation that promotes best practices among tanners in terms of the environment, safety and quality.
As an independent, family company, ATC relies on a foundation of strong values, deeply rooted in our DNA. We are proud to build the future of ATC every day as a socially responsible company, respecting fundamental ethical principles, such as:
Health and safety
The health and safety of our employees and users is a priority for ATC.
We make sure we work with partners who are concerned about respecting human rights as defined in the Universal Declaration of Human Rights of the United Nations.
In all the countries where we operate, we pay particular attention to the working conditions of our employees in the following ways:
Compliance with national regulations relating to working conditions
Willingness to take into account the constraints and sensitivities of each condition.
Continuous investment in improving working conditions (working environment, ergonomics, comfort at the workstation, etc.)
Openness to employ younger generations (using company immersion projects and discovery or end-of-study internship)
We work daily to develop a corporate culture imbued with respect for our people.
Commit to the environment
Environmental issues are at the heart of concerns in the leather industry and it must meet the challenges linked to the reduction of its impact on the environment, ATC invests and innovates in many products and processes allowing tanners achieve better environmental performance.
ATC integrates environmental and societal criteria in product design to make our products more environmentally friendly. This translates into the development of new eco-designed, bio-sourced products and the development of Green Tech processes to reduce the impact of industry on the environment.
We are now ISO 14001:2015 certified, thus assuring all our partners of our commitment to respecting the environment.
It is important to us to make our contribution to sustainable development from the design of products through to their end use.
All ATC France bactericides and fungicides comply with European BPR regulation EU/528/2012, or Regulation on Biocidal Products.
Compliance with international standards
As a European producer of specialty chemicals, our duty is to guarantee our customers that our products comply with regulatory requirements.
All ATC France products comply with European regulation (EC) n°1907/2006 concerning the registration, evaluation and authorization of chemical substances (REACH). This regulation was adopted to better protect the health of users and the environment against the risks associated with chemical substances.
ATC complies with the CLP regulation n°1272/2008 of the European Parliament on the labelling and communication of chemical risks to users.
Engaging with its business partners for many years, ATC has banned the use of all substances indicated in the "Restricted Substances Lists" (RSL) of our contractors. We also assure our customers that ATC France products comply with the "Manufacturers Restricted Substances List" (MRSL), developed by the ZDHC (Zero Discharge of Hazardous Chemicals), formed by a group of powerful international brands with the same goals.
Engage with stakeholders
In business relations with many stakeholders, whether customers, suppliers, or even banking institutions, ATC is committed to respecting fundamental concepts such as:
free competition,
the confidentiality of commercial agreements,
the confidentiality of intellectual property.
the applicable national commercial and tax regulations.
More than just respecting business law, ATC is committed to treating all business partners fairly.
We believe in the friendliness of our business relationships; we believe that all stakeholders contribute to making ATC an ever more efficient company.